Since a child in his native Lubumbashi, young Congolese countertenor Serge Kakudji dreamed of becoming an opera singer.  After workshops and competitions in Zimbabwe and the Congo at ages 16 and 17,  Kakudji garnered the enthusiasm of of critics and audiences alike at Vienna's 2006 New Crowned Hope Festival singing Mozart excerpts in The Dialogue Series: Dinozord III by choreographer Faustin Linyekula. The show consequently took him to Brussel's Royal Flemish Theater (KVS), to the Aix-en-Provence Festival and on tour internationally into 2008.  He returned home in 2006 to compose and perform "Likembe Opera," the first opera in Swahili.

Kakudji began formal studies in 2007 at the Institut Musicale et Pedagogique in Namur, Belgium  and that same year won first place in the Verviers Competition "Jacques Dome." He continued his studies at the Conservatoire Nationale Régionale de St. Maur-des-Fossés in France.

In 2008, Kakudji began a long international tour with Ghent-based dance company Les Ballets C de la B as the star of the show "Pitié," based on the music of the St. Matthew Passion of Bach, arranged by Fabrizio Cassol and directed by Alain Platel.  Opening at the Ruhr Festival in Bochum, the tour took him to over 45 cities all over Europe and as far as Japan and his native Congo, singing and dancing in more than 100 performances.  A cd of the music is available on Cypres Records, and Kakudji periodically sings his role in concert version, as well.

In the 2011-12 season, Kakudji made his role debut as Tolomeo in Haendel's Giulio Cesare in Egitto under the direction of Jean-Claude Malgoire in a Christian Schiaretti production at Chateau de Versailles, and interpreted the Angel of Light in Euripede's "La Folie d'Héracles" to original music by Fabrizio Cassol in a Christophe Perton production at the Paris Comédie-Française and the Comédie de Valence; he also sang the world premiere of Henri Seroka's Credo (written for him) at Classic Open Air Festival in Berlin, sang the role of Lidio in a concert of Cavalli's L'Egisto in St. Maur-les-Fossés under Robin Troman, and was a soloist in Rossini's Petite Messe Solennelle in a staged version by Jean-Philippe Delavault in Tourcoing under Malgoire. He made his Teatro Real de Madrid debut as Amore in L'Incoronazione di Poppea; he reprised this role in his Opéra de Montpellier debut in May 2013.

In 2013, Off World Pictures presented a documentary film about Serge's life, entitled Rêve Kakudji.  It made the rounds of cinemas and festivals, being nominated for various documentary awards.

He covered the roles of both Tolomeo and Giulio Cesare in the Paris Opera's production of Handel's Giulio Cesare, sang a reprise of "La Petite Messe de Rossini" at the Atelier Lyrique de Tourcoing and reprises of Studio Kabako's "Sur les traces de Dinozord" in various festivals and European theaters.  Serge Kakudji also starred in "Coup Fatal," a collaboration with Alain Platel and Fabrizio Cassol, based on concerts he had presented in the Congo, mixing operatic arias accompanied by traditional African instrumentalists. It opened at the Vienna Festival and Holland Festival in the summer of 2014.  The last of 180 performances took place at the Marseille Festival.  The cd of Coup Fatal was published by Outhere-music.

In 2015, he performed a solo recital at Klassiek aan zee at the Grote Post with pianist Claryana Sotero in Oostende, Belgium.  He was a soloist in a concert of Baroque Music with "Africa Acts" at the Dapper Museum in Paris.  He was also the soloist (Swan) in Carmina Burana with the Teatro Massimo at their summer venue, Teatro di Verdura in Palermo, Italy, directed by Daniel Kawka.

In 2016, e was a soloist in the Africa Lyric Opera's concert at the Théâtre Des Champs-Elysées in Paris with his performance of "Non lasciarmi in tal momento," from the opera Aureliano in Palmira by Rossini, directed by Sébastien Billard with the Symphonic Orchestra of the Republican Guard and The French Army Choir, as well as recitals in France and Belgium.

Celebrated at the Operas of Versailles, Montpellier, Teatro Real de Madrid in a European repertoire, he never forgets his African roots, and proposed to Alain Platel and Fabrizio Cassol the idea of Coup Fatal, that tours for two years in the majority of important theaters and festivals.  The 180 performances of this work does not keep him from giving recitals, where he passes easily from European repertoire to African music, with orchestra and with only piano.

In 2017, the choreographer Annabelle Bonnéry proposes Two Seul to him.  In 2018, Claire Diterzi creates L'Arbre en poche with him, freely inspired by Baron Perché of Italo Calvino, mixing singing, acrobatics, percussion and theater.  The next year, the Théâtre National de Chaillot offers him carte blanche for two years, around the project "Paysage d'ensemble."

Serge Kakudji developed an operatic art the encounters the most challenging contemporary dance and the most innovative plastic arts – as was the case with Coup Fatal of Ballets C de la B, directed by Alain Platel – and as we shall see in the autumn of 2022 with Second Souffle, commissioned by the Halles de Schaerbeek in Brussels.

With his new Compagnie Likembe, which he created in 2019, Serge Kakudji opens up different artistic domains, putting the art of his countertenor in the heart of his artistic proposals.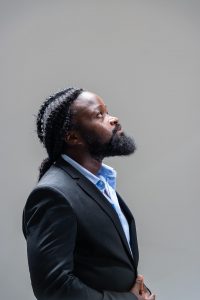 Updated September 16, 2022; please destroy out-of-date copies.